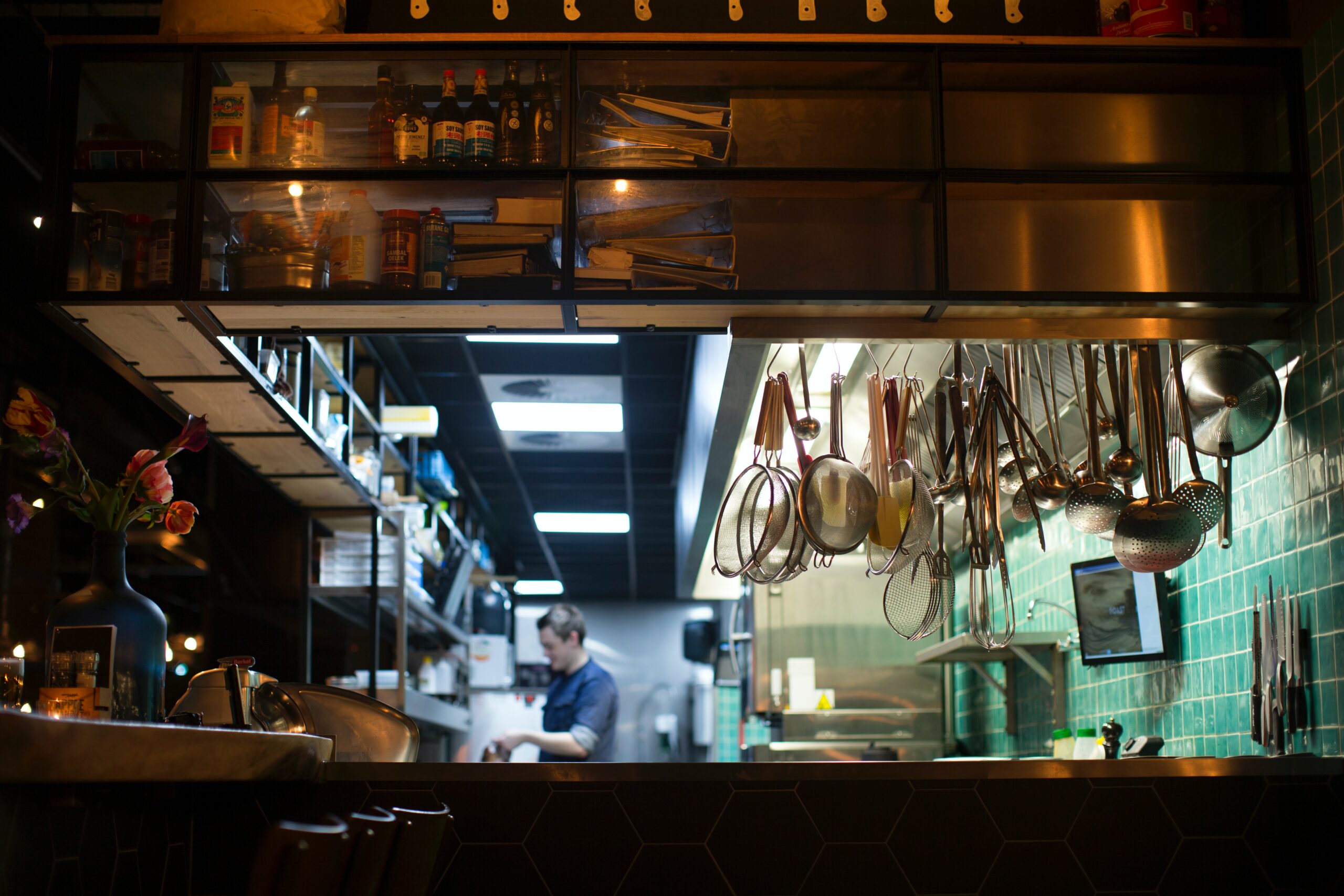 February 24, 2022
The Role of Kitchen Display Systems in the Restaurant Business
If you're an existing or prospective restaurant, you've undoubtedly worked the food lines, ran food to tables, taken orders, and put out fires, literally and figuratively. Many businesses have replaced hand-written order tickets with a digital system for the many benefits they provide such as the ability to take advantage of a kitchen display system (KDS) for kitchen staff.
Kitchen displays like SimpleKDS are evolving so here, we're going to discuss how they presently serve businesses and what the future might look like.
What is a kitchen display system? The then & now
Most individuals, whether or not they have any food service experience, are familiar with the swim lane style displays used in kitchens. We've all watched workers behind the counter or through the drive-through window at Wendy's as we've patiently waited for a Baconator.
Quite simply, a KDS exists as an extension of a POS system. The first restaurant POS was developed by IBM and was implemented in McDonald's in 1974 but the display systems wouldn't come until later.
Today in 1974 McDonald's performed the very first stand alone POS transaction on a William Brobeck Intel 8008 system pic.twitter.com/YCLarmJxHd

— Brian Roemmele (@BrianRoemmele) September 1, 2016
Kitchen display systems weren't very practical until the early 90s when integration with Microsoft Windows was developed which offered substantially more control over all backend systems.
Since then, a lot has changed and in the right hands, the technology we have today allows us to very easily build integrations for these systems which are now integral to many operations. It should be accurate and easy for businesses – everything else is plug and play which is what a modern kitchen display should be.
Role of the kitchen display systems now & into the future
SimpleKDS was designed to suit the vision of simplicity and functionality as well as possess the following traits which are central to any good KDS.
The KDS system is effortlessly accurate
The nice part about computers is that they can't make mistakes (not to be confused with malfunction.) Provided you've configured your menu appropriately, customers ordering delivery or to-go through your app as well as in-house staff should be able to easily input exactly what is desired. While nothing is impervious to power issues, network issues, and the like, whatever the end-user puts into the POS system is displayed at the assigned KDS endpoints.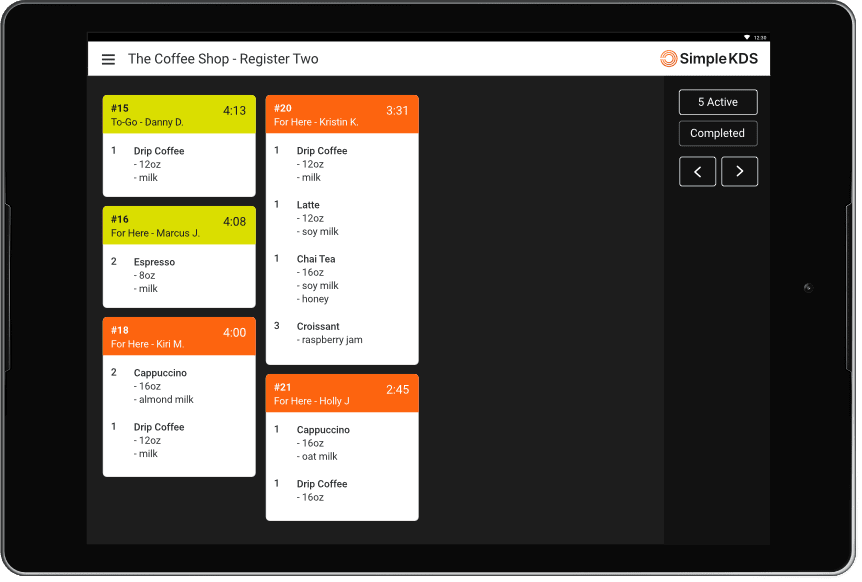 Human error is your only enemy here – so long as the POS and menu is configured properly, by design a great KDS will always output information exactly as it's input. In SimpleKDS's case, we simply use a Clover POS API to transmit menu data selected via POS inputs between the two systems. 
It's reliable, so long as your server (or the end-user placing a mobile order) doesn't space out and forget to add or remove something!
KDS systems are as efficient as it is reliable
Sure, paper tickets and cash transactions can certainly "help" when it comes to tax time. In conjunction with a good POS system, it's much more efficient in almost every use case and connects with everything.
So to build on the last point, everything needs to happen quickly. Thanks to modern architecture, menu data is transferred as quickly as a network can carry it to a KDS. Everything is automated and staff can complete orders with ease.
There's nothing to be processed or analyzed during this time meaning data zaps to where it's needed (i.e., the appropriate display or displays) when it's needed.
It's simple to configure & manage
The setup and management need to be just as simple as the underlying of the product itself.
This is the nexus of the whole SimpleKDS project – when we first started developing with Clover and other POS systems, we were shocked by the lack of sensible, affordable options on the market. We were further befuddled by the setup for some of the products which we found needlessly frustrating.
See for yourself – this whole blog on how to set up SimpleSKDS with your Clover account only takes a couple of minutes to read. The process itself only takes a couple of minutes longer.
A good KDS could be easily used outside the restaurant business
There's potential for other service scenarios such as quick service automotive shops (e.g., tire, oil, brakes, detailing, etc.)  or tech repair among others. In these cases, service orders plugged in by front-of-house staff to a POS (or possibly via mobile order), the appropriate services are displayed on the display system,
Though this isn't a focus of ours so shortly after our launch, it's entirely possible for such businesses using Clover POS to use SimpleKDS to easily create a digital display of open orders. 
Should you do this, let us know what you think in the Google Play Store reviews.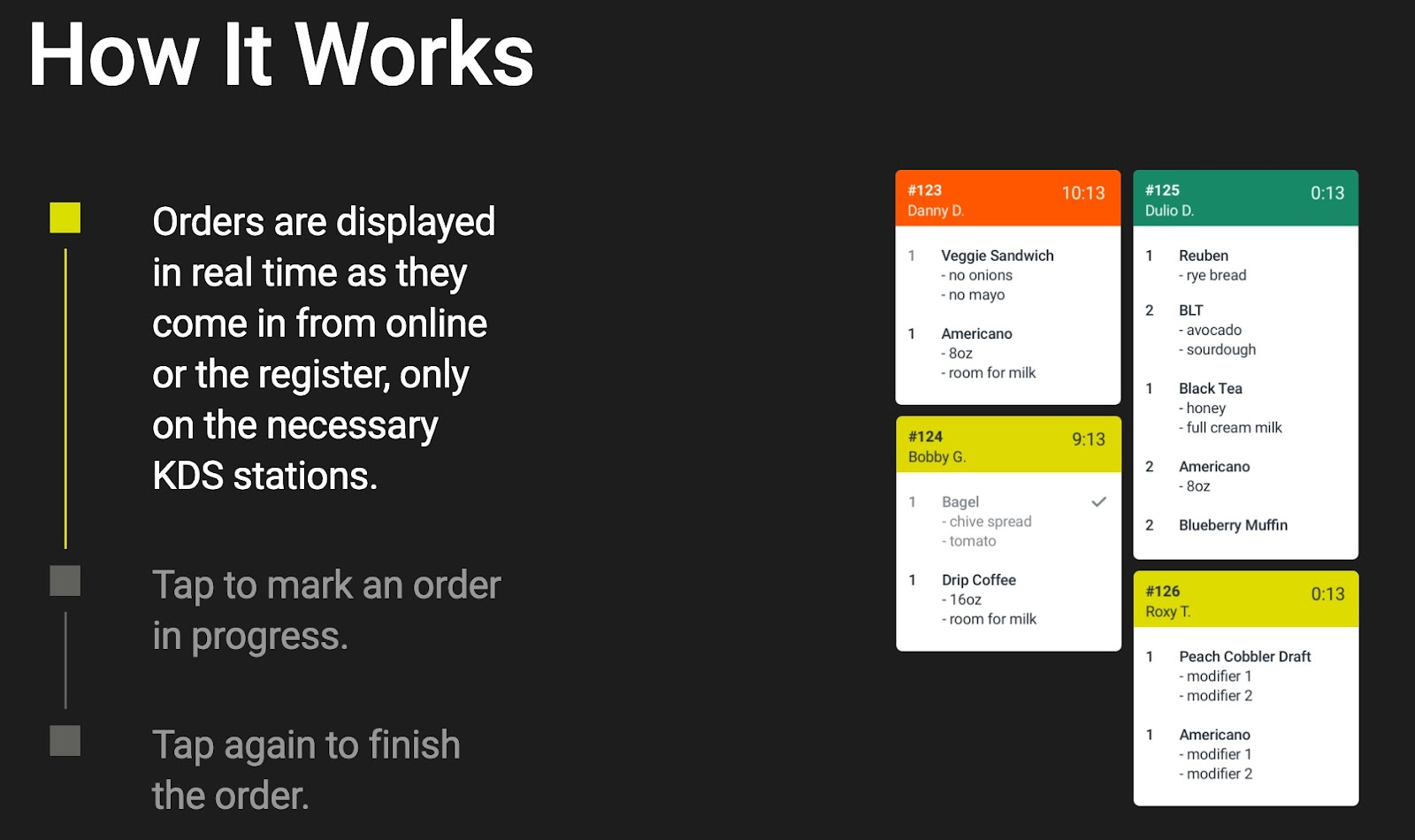 In time, KDS systems could allow kitchen staff to communicate directly with end-users
No, we don't mean building a FaceTime-like feature so your cooks can video chat with the customers – what we mean is a messaging tool that would allow them to quickly communicate with other endpoints such as wait staff, delivery drivers, or customers to resolve issues in real-time.
Right now, these kinds of issues all have to go through some kind of proxy. For example, when there's an issue because an ingredient is sold-out or unavailable, the kitchen would typically notify the server (or management) who would then break the news and discuss options which are then relayed back to the kitchen.
This is slow and if your restaurant is doing well, the staff is likely busy or savoring a much-needed smoke break.
A messaging tool would allow a cook to, for example, contact a customer directly when there's an issue which would be immensely helpful in solving issues with mobile orders. Unless you have a hyper-connected, real-time inventory that syncs with your POS (which you don't), a messaging tool could solve issues before they turn into an issue such as when a customer gets an incomplete meal only to later find they automatically refunded when they would have rather selected another option.
If you've ever DoorDashed breakfast for you and kiddo only to discover the restaurant didn't send the chocolate chip pancakes you ordered because they were out, then you can see the potential for such a feature.
For restaurants running Clover POS, feel free to give it a try by downloading it now from the Google Play Store. It doesn't cost to download or use – all you need is an Android tablet.